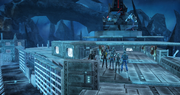 The
Prosstang Industries Center for Racing and Sport
on Iceberg 3
, a.k.a. the
Prosstang Pit of Chaos
, or
Pit of Chaos
, was a small facility designed by
Q'osstigo Prosstang
for entertaining races and contests of physical combat.  The Pit of Chaos was completed by
Ferrigo
and
Jannigo Prosstang
between 32 and 28 BBY.  Most attendees of events at the Pit of Chaos were especially invited to these icy wastelands through connections with Prosstang Industries. The
Prosstang Citadel on Iceberg 3
was located within 3 kilometers of the Pit of Chaos. The Pit of Chaos survived, along with the Citadel, for many years after the fall of the Galactic Empire.
==The Arcade==
Edit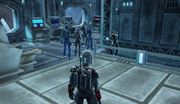 Infrequently, younger guests would join their parent or parents at the Pit of Chaos.  The arcade was a last-of-the line location for children to remain in relative security and warmth.
==The Race Course Plaza Level==
Edit
The racing crowd had to endure the constant, cold weather.
  There were digital heaters placed at a few locations around the spectator stands.
==Indoor Arena==
Edit
The indoor area of the Center for Racing and Sport was generally heated, but drafts would rip through the corridors occasionally.  The south side of the arena had a concourse of vendor stalls offering food, beverage, entertainment and wagers on the sporting events being held that week.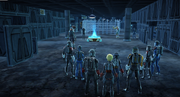 ====Gallery of Center for Racing and Sport Images====
Edit