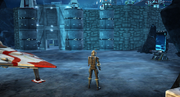 Designed and constructed over a period of years beginning in 31 BBY by
Mandalorian
warrior and leader of the
Clan Prosstang
,
Ferrigo Prosstang
, as a base of operations for
the Prosstang Posse
and interim manufacturing and storage facilities for the small arms branch of Prosstang Industries. The "Towering Mandalorian Citadel" or "Towering Deep Space Citadel" reached final buildout in 21 BBY, shortly before the disbanding of the Prosstang Posse. Remodeling continued until the end of the Clone Wars in 19 BBY.
Though always formidably armed with a variety of powerful anti-aircraft, anti-personnel and anti-droid turrets, the Prosstang Citadel continued to serve a wide range of peaceful visitors as a trading outpost in the Outer Rim. Some areas were restricted from public access by a series of sliding security gates operated by switches or by remote voice activation tied to Ferrigo Prosstang's helmet.